The closing of the beloved concept store Colette in Paris sent waves of disappointment within the fashion industry and to shoppers alike. Colette was a place to see and be seen, with a carefully curated collection of nearly everything under the sun that somehow came together to perfectly embody the "Colette aesthetic" that cool girls (and guys) everywhere wanted to emulate.
It didn't seem to stop there—as the e-commerce industry continues to boom and the appeal of online shopping increases, more and more brick-and-mortar stores, and concept shops in particular, continue to close. But there's one place that seems to have risen above the rest when it comes to careful curation and an unbeatable in-person experience: Milan.
This shouldn't come as a surprise, as Milan is the reigning design capital of a country that is quite literally known for its design. From clothing and accessories to interiors and art, Milan seems to do it best. The same is true for a hearty collection of concept stores that embody the city's spirit, each in their own way. Stepping inside these stores lends customers an experience they can't get online, making the shopping experience that much more special. Below, we've rounded up our favorite concept stores in Milan that are worth a visit.
Photos: Courtesy of 10 Corso Como
The first stop on Milan's concept store circuit should always be 10 Corso Como. A converted garage that opened in 1991, the store rival's Dover Street Market's level of curation. With whimsical displays and interiors, walking inside immediately sparks joy, only to be enhanced by the equally beautiful restaurant covered in lush greenery. Shop off-the-beaten-path brands like Chopova Lowena and Rave Review, coupled with the very best from Maison Margiela, Loewe, and more. After, sit down for a glass of wine (and chocolate cake if you're feeling fancy). There's a book shop upstairs with a museum-quality collection, coupled with funky jewelry and accessories.
Photos: Courtesy of Rossana Orlandi
There's no place quite like appointment-only Rossana Orlandi, and if you want an even more heightened experience, make sure to book a tour through Imago Artis Travel. They'll take you on an in-depth journey through this eclectic gallery space full of everything from traditional paintings to tableware to furniture. If you're lucky, you may even get to meet the famed Rossana Orlandi herself (she gives Iris Apfel a run for her money in both eyewear and overall style). Pieces in the gallery are curated from all over the world, and Orlandi is known for spotting up-and-coming artists before their careers even hit the ground. Wandering through the various floors and rooms is a truly special experience.
Photos: Courtesy of Modes Milano
Modes is worth stopping in for the interior architecture alone, but you can't miss the stunning selection of both womenswear and menswear alike. Set in a raw, industrial atmosphere, the store carries a wide range of brands—from new names to know like Amina Muaddi to closet classics like Max Mara and Balenciaga. Pieces are all on the high end of the spectrum when it comes to pricing, but their selection of books makes for a great alternative if you're looking to save some money.
Photos: Courtesy of Antonia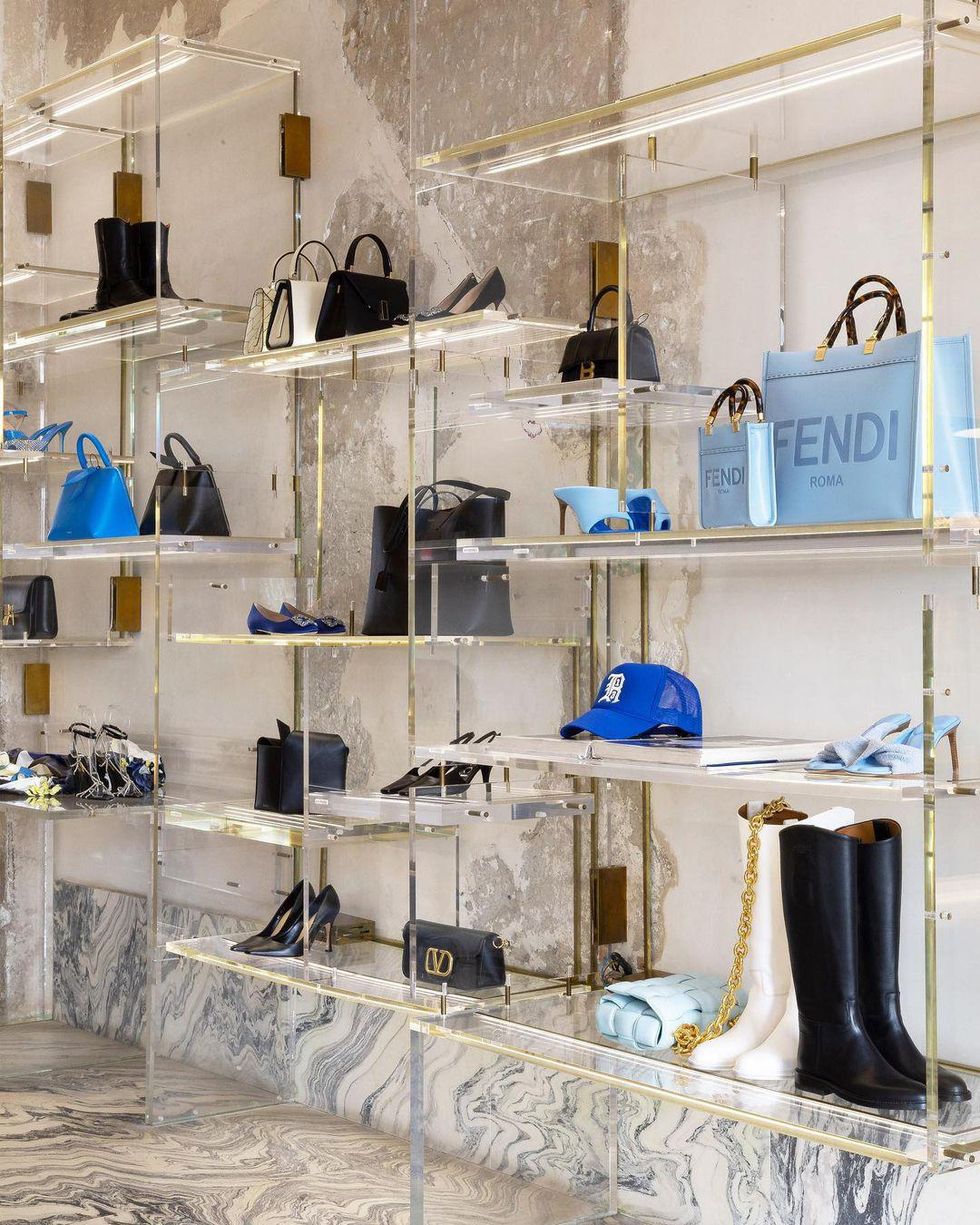 Think of Antonia as your one-stop shopping experience if you're in the market for the best of the best when it comes to luxury fashion. A careful curation of Bottega Veneta, Jil Sander, and more brands make walking through the space a fashion-lover's dream. There are usually quite a few (extremely) fashionable local Milanese roaming about, making the people-watching nearly as good as the merchandise.
window.REBELMOUSE_ACTIVE_TASKS_QUEUE.push(function(){
var makeMonitor = (getStatus, cb, delay) => { delay = delay || 100; var monitor = () => { var time = +new Date(); var status = getStatus(); if (status) { return cb(status); } else { if (!stopMonitor && +new Date() - time < 30 * 60 * 1000) { monitorId = setTimeout(monitor, delay); } else { cb(false); } } }, cancel = () => { stopMonitor = true; clearInterval(monitorId); }; let monitorId, stopMonitor = false; return { start: monitor, cancel: cancel, }; };
var leftArrowCarrousel = makeMonitor( function () { return document.querySelector( ".shop-sidebar.shop-posts .posts-wrapper .slick-next" ); }, function (res) { res.addEventListener("click", () => { gtag("event", "Left Arrow Click", { event_category: "Shopping Module", event_label: "Previous product at carrousel", }); }); } );
leftArrowCarrousel.start();
var rightArrowCarrousel = makeMonitor( function () { return document.querySelector( ".shop-sidebar.shop-posts .posts-wrapper .slick-prev" ); }, function (res) { res.addEventListener("click", () => { gtag("event", "Right Arrow Click", { event_category: "Shopping Module", event_label: "Next product at carrousel", }); }); } );
rightArrowCarrousel.start();
var buyButton = makeMonitor( function () { return document.querySelectorAll( ".shop-sidebar.shop-posts .posts-wrapper .widget__product-buy-link-btn" ); }, function (res) { for (let button of res) { button.addEventListener("click", () => { gtag("event", "Buy button click", { event_category: "Shopping Module", event_label: `${button["href"]}`, }); }); } } );
buyButton.start();
var imageShopp = makeMonitor( function () { return document.querySelectorAll( ".shop-sidebar.shop-posts .posts-wrapper .widget__head a" ); }, function (res) { for (let image of res) { image.addEventListener("click", () => { gtag("event", "Image click", { event_category: "Shopping Module", event_label: `${image["href"]}`, }); }); } } );
imageShopp.start();
var productTitle = makeMonitor( function () { return document.querySelectorAll( ".shop-sidebar.shop-posts .posts-wrapper .widget__headline .widget__headline-text" ); }, function (res) { for (let product of res) { product.addEventListener("click", () => { gtag("event", "Product title click", { event_category: "Shopping Module", event_label: `${product["href"]}`, }); }); } } );
productTitle.start();
});
window.REBELMOUSE_ACTIVE_TASKS_QUEUE.push(function(){
window.REBELMOUSE_STDLIB.loadExternalScript("https://s.skimresources.com/js/150311X1615657.skimlinks.js", function() {
});
});
window.REBELMOUSE_ACTIVE_TASKS_QUEUE.push(function(){
!function(f,b,e,v,n,t,s){if(f.fbq)return;n=f.fbq=function(){n.callMethod?n.callMethod.apply(n,arguments):n.queue.push(arguments)};if(!f._fbq)f._fbq=n;n.push=n;n.loaded=!0;n.version='2.0';n.queue=[];t=b.createElement(e);t.async=!0;t.src=v;s=b.getElementsByTagName(e)[0];s.parentNode.insertBefore(t,s)}(window, document,'script','https://connect.facebook.net/en_US/fbevents.js');fbq('init', '1248680838922690');fbq('track', 'PageView');
});
window.REBELMOUSE_ACTIVE_TASKS_QUEUE.push(function(){
window.REBELMOUSE_STDLIB.onElementInViewport({ threshold: 400, selector: "video", oneTime: true, onIntersect: function(entry){ var element = entry.target; element.setAttribute("allow","autoplay"); element.loop = true; element.muted = true; element.autoplay = true; element.setAttribute("playsinline","true"); //element.controls = false; element.play(); } });
});
window.REBELMOUSE_ACTIVE_TASKS_QUEUE.push(function(){
let modDate = new Date (document.querySelector('.current--post .social-date-modified__text').textContent); let createDate = new Date (document.querySelector('.current--post .social-date__text').textContent); let m_names = new Array("January", "February", "March", "April", "May", "June", "July", "August", "September", "October", "November", "December");
function dateToMDY(inputDate) { var d = inputDate.getDate(); var m = inputDate.getMonth(); var y = inputDate.getFullYear(); return '' + m_names[m] + ' ' + (d <= 9 ? '' + d : d) + ', ' + y ; } document.querySelector('.current--post .social-date-modified__text').innerText = dateToMDY(modDate); document.querySelector('.current--post .social-date__text').innerText = dateToMDY(createDate); }); window.REBELMOUSE_ACTIVE_TASKS_QUEUE.push(function(){ let headings = document.evaluate("//p[contains(., 'Want more stories like this?')]", document, null, XPathResult.ANY_TYPE, null ); let thisHeading = headings.iterateNext(); console.log(thisHeading.textContent, 'head changed'); thisHeading.innerHTML = "More From Coveteur"; thisHeading.style.fontFamily= 'Playfair Display'; thisHeading.style.fontSize="24px";
});
https://coveteur.com/milan-concept-stores